San Francisco Boot Camps
Don't give up. Workout with a group and accomplish your goals.
The "Koi Fitness" Boot Camp Keys To Success
We know in order to be successful, the first step is to create a workout that you want to show up for. That's why we design our boot camps to be individually-paced while focusing on a team environment that helps us push each other.
Forget about resolutions.
We will help you make a real change that produces real results. We design our program to push you while developing a team comradely with your fellow class mates. We even enjoy a weekly brunch outing together following our weekend class.
Each workout is different, focusing on specific muscle groups and fitness areas, always balancing cardio, strength, endurance, speed, agility and flexibility. Whether you want to get into shape or take your already-serious fitness to the next level, we can create the right program for you. Our trainers are highly experienced athletes and come from a broad range of fitness backgrounds, so our workouts are varied, unique, and effective. For more information and to sign up for a free trial class*, please fill out the form below.
Saturday Brunch. We work hard to help each other accomplish our goals, so we get together after class every Saturday to support, and enjoy, each other's company. Join our team and get more than just results.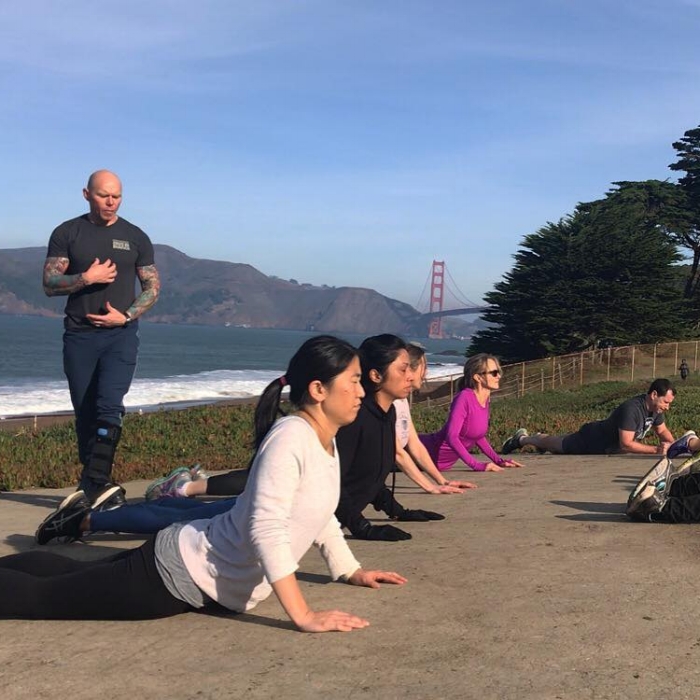 Each of our six-week programs — designed for teams of 8-12 people — provides four vigorous, one-hour workouts each week. We'll track your progress through periodic fitness assessments and you'll train with others members at your fitness level which makes our workouts motivating and fun. We understand that no training program is effective without a proper diet, so we will also counsel you on how smart nutrition can help you reach your goals even faster.
Boot Camp Locations and Pricing
Boot camps are held at two locations throughout the week - The Golden Gate Park Bandshell and stunning Baker Beach.
We offer weekday morning sessions Monday through Thursday starting at 6am, Monday & Thursday at 7am, and a Saturday morning class at 9am.
Pricing:
1 day per week, for 6 weeks: $110 ($18.33/class)

2 days per week, for 6 weeks: $210 ($17.50/class)

3 days per week, for 6 weeks: $300 ($16.66/class)

4 days per week, for 6 weeks: $355 ($14.80/class)
We Get You The Results You Want:
TO SIGN UP FOR A FREE TRIAL CLASS*, OR FIND OUT MORE ABOUT OUR BOOT CAMP, PLEASE FILL OUT THE FORM BELOW:
Once you submit, we will follow up with you by email to book your free class.
*Free trial class restricted to first time clients. Free class subject to class availability.